The epoxy coating provides a barrier between magnets and deteriorating substances.This allows our Waterproof Neodymium Disc Magnets to be used for a longer time in a certain environment.
This super strong neodymium disc magnet with Epoxy Coating is made of rare earth materials, which has the powerful ability to attract all kinds of iron materials. With our free double-sided adhesive tape, it can be applied to almost all kinds of scenes in life,example for Refrigerator Magnets, DIY,Shower Door, Work or Office, Scientific Purposes, Arts and Crafts or School Classroom,etc.
The very frequently magnetized directions of disc magnets is axially magnetized, that means that the N-S poles are on the flat/round surfaces.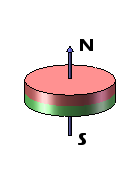 But there is also diametrically magnetized option to choose from.