Epoxy enables better grip for magnet separation and prevents scratches to other objects.

The epoxy coating provides a barrier between magnets and deteriorating substances. This allows our Waterproof Neodymium Disc Magnets to be used for a longer time in a certain environment.
The very frequently magnetized directions of disc magnets is axially magnetized, that means that the N-S poles are on the flat/round surfaces.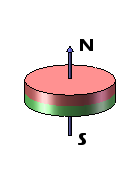 But there is also diametrically magnetized option to choose from.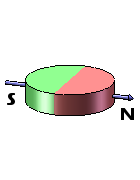 Grade: N52
Coating: Ni-Cu-Ni (Nickel-Copper-Nickel)
Magnetization: Magnetized Through Thickness (THK)
Br: 14,400 Gauss
BHmax: 52 MGOe
Hc: 10,500 Oersteds
Hci: 11,000 Oersteds
Max Operating Temperature: 250ºF/121ºC
Curie Temp: 590ºF/310ºC
Density (lb/in3): 0.275
Neodymium magnets produce the highest MGOe of any permanent magnet material. The most common grades of Neodymium magnets are N33, N35, N38, N40, N42, N45, N48, N50, N52, and N55.
We can also custom manufacture neodymium disc magnets to your exact specifications. Simply send your RFQs or questions to us at info@vormag